Tom Balding Spurs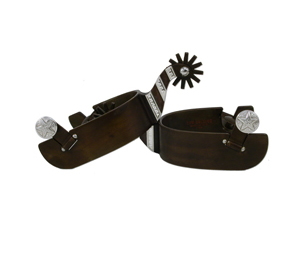 All Tom Balding Spurs may be ordered with a 1" or a 1 1/4" wheel band and several different shank options. There are also several different rowel options to choose from. Spurs can be plain with no silver or they may have a large amount of silver. Your choice of blued steel or brown. All spurs are handmade.
For custom orders, please see our selection of Tom Balding rowels and shank options.
NOTE:All custom orders must be prepaid.