Stirrups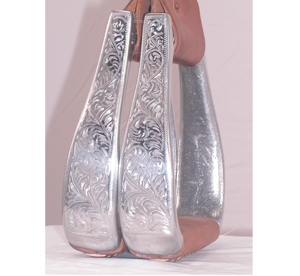 "Stirrups complete the saddle, strong, safe and durable"
Avila's Pro shop offers three styles of stirrups. The job or the event will determine what stirrups our customers prefer.
Walls aluminum stirrups are the best value in the aluminum stirrup market. The depth of the stirrup, the tread, and the radius on the edges makes Walls stirrups the leader in aluminum stirrups. Made in the USA.
Avila's Pro Shop offers Nettles oak stirrups , also made in the USA ,as are our silver stirrups which are made by Out West Stirrups.