Saddle Blankets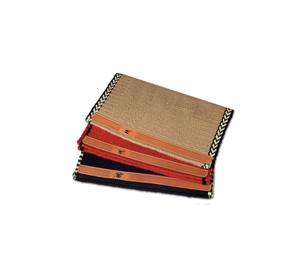 There are two terms that you should be familiar with when purchasing a wool saddle blanket, warp and weft.
Warp is the skeleton or framework of the blanket. The less expensive blankets will use nylon or polyester as warp. It is much easier to find nylon or polyester that will withstand 150 pounds of tension; however they will rot whereas wool will not. We use only wool warp which will withstand 150 pounds of pressure, will not dry rot and will last a lifetime. Even when washed repeatedly it will hold up. The weft is the colorful part of the blanket that you see. It is 100% wool also.%EF%BF%BD
MADE IN THE USA.
The wear leathers are made of Hermann Oak skirting leather. We offer long or short leathers and also a fancy scalloped one. We can also customize the leathers with brands, initials, or lettering. We offer several standard colors and also can do custom dying to match a favorite outfit, stable colors, etc. We feel they are absolutely the best blanket on the market today.