Rawhide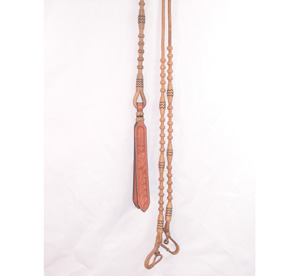 We sell the finest romals and bosals to be found anywhere in the world.
From the instant you pick up or romals and bosals you will find yourself answering your own questions... "are they beveled?" Yes. "Is the weight correct?" Yes. These and more questions can be answered by you, the customer, once you feel the product.
Avila's Pro Shop offers Vaquero Cream to clean and soften your rawhide products. We also offer a repair service on romals up to a 16 plait. Our romal reins average 55" long. These are too long for rein chains. Rein chain romal reins should be 46" to 48" long, which we can have made for you.
Avila Pro Shop offers mane hair mecates, both eight strand and six strand 22" long.
We also offer the very popular Avila climbing rope mecate. The climbing rope mecate is 24" long, 7/16" diameter, with a hand braided pineapple knot and popper.